www.munkebjerg-bb.dk
ATTENTION !
Some GPS systems does not guide to correct position when entering
our address: Skovbyvej 56, 7080 Børkop
TO AVOID MISTAKES USE COORDINATES:
E9°38'34" N55°40'41" OR E9.6428 N55.6780
(Depending on if your GPS system uses degree/min/sec or decimal)
OR ALTERNATIVE
TOWN: 7080 Borkop - CROSS ROAD : Skovbyvej AND Vigen Skovvej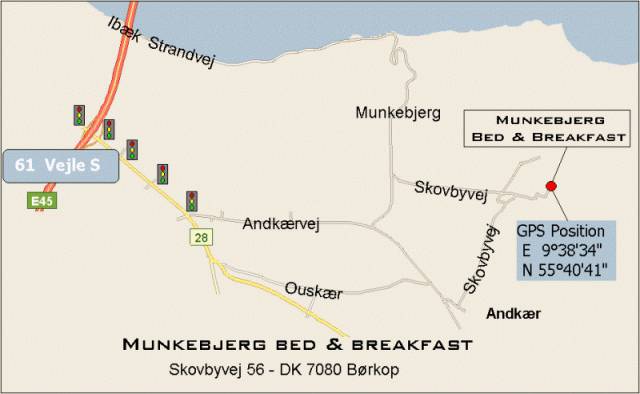 View Larger Map
Vælg link til Google Map for kørselsvejledning.

Use mouse to follow link to Google Map for road directions.

Drücken Sie den Link für die Anfahrtbeschreibung in Google Map.